2020 AHA Youth of the Year: Caroline Elik, Region 11

At the 2020 Annual AHA Membership Convention Awards Banquet it was announced that Alton, Illinois youth Caroline Elik is the recipient of the 2020 AHA Youth of the Year award. Caroline receives the Youth of the Year perpetual trophy as well as a $5,000 scholarship from the Arabian Horse Foundation.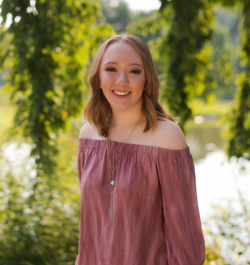 Compassion, humility, and motivation are the foundation of this young woman's approach to life. She is currently enrolled at University of Missouri – Columbia pursuing a degree in journalism. She is a member of the Women in Media club and believes that it is important for women to have the resources and networking opportunities to be able to pursue their passion for media-oriented careers. During High School she was actively involved with her school's newspaper, and held numerous leadership roles in her local 4-H club. She served as the Region 11 youth vice director, and was elected as the AHYA Secretary in 2019. She believes that involvement at any level is important as it improves not only our own lives, but the lives or others through the work that we do when we are involved in something worthwhile.
Caroline's efforts within the Arabian horse community has led her to strive to be a positive influence on AHYA and to be a role model for those who aspire to become further involved in the Arabian horse community. She believes that "our youth are not just our future, but also our present – they are already active contributors to the growth and promotion of the Arabian breed".
Caroline Elik is a leader among her peers, serving her breed and others with a selfless attitude and the heart of a champion. AHA is proud to call her our 2020 'Youth of the Year'.
AHA would also like to congratulate, Ms Grace Smith from Region 5 as the first runner-up for 'Youth of the Year' and earning a $1000 scholarship from the Arabian Horse Youth Association. Congrats to all!

---