2022 AHA Youth of the Year: Grace Smith, Region 5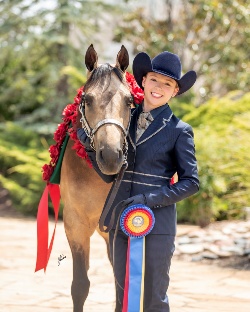 At the 2022 Annual AHA Membership Convention Awards Banquet it was announced that Orting, Washington youth Grace Smith is the recipient of the 2022 AHA Youth of the Year award. Sophia receives the Youth of the Year perpetual trophy as well as a $5,000 scholarship from the Arabian Horse Foundation.
Compassion, humility, and motivation are the foundation of this young woman's approach to life. She has served as an officer on her High School Associated Student Body Executive Board, National Honors Society and Future Business Leaders of America Chapter. Beyond this she has done numerous community service projects.
Moreover, our Youth of the Year has and is an important part of the Arabian Horse Youth Association. She was our AHYA President and is serving her second term. During her term she has championed the Are U Okay program. This program is dedicated to making meaningful connections with others and starting the important conversations about mental health that are needed in our community. The AHYA Board has now adopted this and has been hosting wear yellow days at local, regional and national shows to show support for the program and for suicide awareness. She brought this idea to AYHA because it is important to me that we not only share the love of the Arabian horse through diverse competitions and shows, but also that we take care of each other when someone is struggling and it's needed the most!
Grace Smith is a leader among her peers, serving her breed and others with a selfless attitude and the heart of a champion. AHA is proud to call her our 2022 'Youth of the Year'.
AHA would also like to congratulate, Ms Ally Hubbard from Region 7 as the first runner-up for 'Youth of the Year' and earning a $1000 scholarship from the Arabian Horse Youth Association and Ms Marin McKee from Region 5 as the second runner-up. Congrats to all!
---