Frequently Asked Questions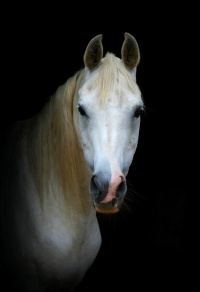 There are several ways to become a member of the Arabian Horse Association. Becoming a member may be done online , via a submitted membership application through mail or email, or by calling AHA at 303.696.4500, option 2. Memberships consist of four options: Adult, Youth, Business or Life membership, as well as options that can be added on such as a club affiliation, Competition Card or the Arabian Horse Life Magazine.
The Arabian Horse Association has affiliated clubs throughout the United States and Canada that are regional or discipline based. A member may add club affiliation to their membership by paying the additional club dues, if applicable, when renewing.
Competition Cards are issued to individual members ONLY, joint memberships or business accounts can NOT hold a competition card. If the horse you are showing is owned in a joint account one person affiliated with the account MUST hold an individual membership with a Competition Card. Horses owned in a business name must have a Business Membership if the horse will be competing in AHA recognized events. The Competition Card may be purchased at the beginning of the membership or anytime within the length of the membership; however, the Competition Card will expire at the same time as the initial length of the membership. For example, if you become a member on January 5, 2016 and don't purchase a Competition Card until June 18, 2016, it will expire on January 31, 2017 just like the membership card. You cannot purchase a Competition Card without a membership.
The AHA Competition Card is required for individual adult and youth members who compete, members who own horses that compete, officials who officiate at recognized AHA events and members who participate in AHA Award Programs. This includes AHA recognized shows and endurance and competitive trail rides. The competition card is available to every current member who would like to take advantage of the AHA Excess Personal Liability Insurance for their registered horse.
If you have any questions regarding the insurance policy, please contact Equisure at 1.800.752.2472.
How do I update my personal information?
Mailing address and contact information are available online to current paid members. After you have logged in using your member number and confidential PIN look for the option under your Personal Profile.
You may also contact AHA if your address has changed. You may give us a call at 303.696.4500 option 2, email us at info@arabianhorses.org, or write to us with your new information. Changes to your email address must be done through the AHA office by email or telephone.
Name Update
If your name has changed due to marriage, divorce or legal name change, please provide a written signed request to update our records.
Memberships expire the following year of the last day of the month in which the membership started. For example, if membership started on March 8, 2015, that membership expires March 31, 2016. Our memberships are based upon an anniversary year basis.
Extreme care must be taken when drawing a horse's markings, as this is a very specific way to identify them. AHA recognizes markings as a compilation of solid white hairs. All white markings will need to be drawn on the form provided as accurately as possible. Markings are also very important when identifying grey horses. A true marking on a grey horse will have under-lying pink skin and only the outline of the pink skin is drawn. This can sometimes be seen easier when the horse is wetted down or clipped. Always remember to draw the markings with the horse in front of you, not from memory. Pictures are always welcome.
AHA recognizes all leg and facial markings that are depicted by growths of pure white hairs or underlying pink skin on grey horses.
Facial Markings
Star-any white marking occurring above the eye line
Strip/Blaze-any white marking occurring below the eye line and above the top of the nostrils
Snip-any white marking occurring between the top of the nostrils and the bottom of the nostrils
Upper Lip-any white marking occurring below the nostrils, but still on the upper lip
Lower Lip and Chin-any white marking occurring on the lower lip and/or chin
Leg Markings
Coronet-any white thin marking around the coronet band of the hoof
Pastern-any white marking reaching the pastern of the leg
Fetlock- any white marking reaching the fetlock joint of the leg
Sock-any white marking reaching the center of the cannon bone of the leg
Stocking-any white marking reaching above the center of the cannon bone and higher on the leg
Body Markings
A written description of any unusual white body markings, noting size, shape, and location should be included on the application form, at the bottom of the markings page.
Hoof Color
Dark-black or dark in color, normally there will be no white marking above this hoof
Light-white or light in color, normally there will be a marking above this hoof
Parti-colored-dark and light stripes on hoof, normally there will be a white marking above this hoof
Artificial insemination is when the mare and stallion are on/at the same premises at the same time. The stallion is collected on site and fresh semen is inseminated immediately into the mare. Transported/stored semen is when frozen or cooled semen is shipped from the stallion to the mare or if the semen is stored for over 72 hours.
Before breeding the mare via embryo transfer she must first hold a valid Embryo/Oocyte Transfer Permit. For each embryo that is flushed the mare owner must order an Embryo/Oocyte Transfer Certificate. These certificates are needed by the owner of the resulting foal to allow registration. Each of these certificates, when issued, has met the requirement of the recorded owner's signature of the dam and sire at the time of breeding as well as breeding dates and method. Upon registration of the embryo transfer foal the owner will use the Embryo/Oocyte Transfer Registration Application for 2008 and Later Foals along with the issued Embryo/Oocyte Transfer Certificate. This Embryo/Oocyte Transfer Certificate allows the embryo to be sold/transferred and the bearer of the document to register the foal without having to contact previous owners in the past.
There is only one registration application for Half-Arabian and Anglo Arabian horses. This application needs ALL sections completed and returned to the AHA Office.
If the Half-Arabian horse you are registering is over two years of age OR will be shown in a Futurity or Maturity class at one of our National shows, it will need to be DNA qualified to its purebred parent only.
Half- Arabians and Anglo Arabians produced by an embryo transfer will need to be DNA qualified to both parents.
To transfer ownership of a horse that is already registered, both the Buyer and Seller sections will need to be completed located on the back of the horse's Certificate of Registration. Return the original certificate to the AHA office. Transfer fees are based on the date of sale from the time the Certificate is postmarked to AHA.
| | | | | |
| --- | --- | --- | --- | --- |
| | | Member | | Non-Member |
| Date of sale* to 2 months | | $15.00 | | $65.00 |
| 2 – 6 months from date of sale | | $30.00 | | $80.00 |
| After 6 months | | $50.00 | | $100.00 |
The Arabian Horse Association is a record keeping organization. We try to keep as updated and accurate records as we can and are only as good as the information provided to us. If you receive a horse's papers listing the recorded owner as someone other than the individual you purchased the horse from or the recorded owner cannot be found please contact the AHA directly to discuss your options.
If a Certificate of Registration has been lost, the recorded owner of the horse must request a Duplicate Certificate. The Duplicate Certificate Request and Affidavit form will need to be completed, signed and notarized by the recorded owner. The markings must accompany the request and pictures are always helpful to identify the horse. The fee for a duplicate is $25 ($75 for non-members).
On the back of the horse Registration Certificate you will see a section called Record of Castration. Complete this section and return the original certificate to AHA. We will update the horse's record to show the gender change and print a new Certificate of Registration stating "Gelding". There is no charge for this service.
To report a death, the recorded owner may provide a signed statement stating the horse's name and registration number and date of death. The Certificate of Registration does not need to be returned.
Only the horse's recorded owner may request to change its registered name. To change a horse's name you must ensure that your horse has no registered progeny, has never been imported or exported, has never held a racing certificate and has never been shown in an AHA recognized show. To request a name change the recorded owner must return the horse's original Certificate of Registration along with a signed statement listing what the new name should be. The new name must abide to the name format regulations (no more than 4 parts to the name and cannot exceed 21 characters including spaces). The fee to change a horse's name is $250 ($300 for non-members). Upon approval by the Association, an amended Certificate of Registration will be issued to the recorded owner of the horse. The registration number of the horse will remain the same, regardless of the name change.
DataSource enables customers to access this information directly online.
The Association can also provide you with a five-generation pedigree or progeny list for any registered, purebred Arabian horse for a fee of $10.00. Requests can be mailed to:
Arabian Horse Association
PO Box 173886
Denver, CO 80217-3886
Please include the horse's name and registration number with your correspondence.
For more information regarding testing for SCID (Severe Combined Immunodeficiency), please contact:
VetGen
3728 Plaza Drive
Suite 1
Ann Arbor, MI 48108
Phone: 734.669.8440
Fax: 734.669.8441
A pedigree is essentially a horse's family tree or lineage. A four-cross pedigree, like the ones that you will see in DataSource, shows four generations of this lineage. Siblings or offspring are not included in a pedigree but can be viewed under progeny.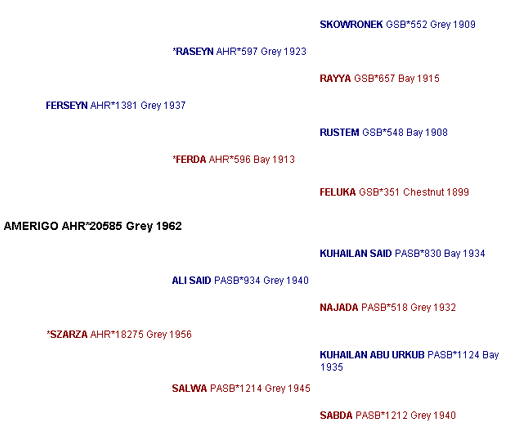 To read a pedigree, start with the first horse on the far left of the screen. This is the "subject horse". Included are his registered name, registration number, color and foal year. The next two horses to the right of the subject horse are his parents, the sire (or father), and the dam (or mother). Continuing to the right, the next set of horses are the grandparents followed by great-grandparents and great-great-grandparents. The pedigree of a purebred Arabian horse can be traced, or followed, for many more generations. You can select a new subject horse by clicking on any of the underlined horses in the pedigree. As the world's oldest known breed, many Arabian owners take great pride in their horse's long family history.
Here are a few important things to know when reading your horse's pedigree:
The sire's name is always listed above the dam's name in a pedigree.
Every purebred Arabian horse registered with the Arabian Horse Association is assigned a unique registration number. These numbers are always prefixed by the studbook abbreviation "AHR*".
The DataSource Product contains over 407,000 horses from foreign registries. The horses from these registries are also assigned a unique registration number that is prefixed with the appropriate studbook abbreviation.
| | |
| --- | --- |
| AAS | AUSTRIAN ARAB HORSE SOCIETY |
| ABSB | AL-BADEIA STUD BOOK |
| ACCA | ECUADORIAN ARABIAN STUD BOOK |
| AHR | ARABIAN HORSE REGISTRY OF AMERICA, INC |
| AHSA | ARABIAN HORSE SOCIETY OF AUSTRALIA |
| AHSB | ARAB HORSE SOCIETY - UNITED KINGDOM |
| ALSB | ALGERIAN ARABIAN STUD BOOK |
| ARAD | RADOWCE (RADUTZ - AUSTRIA) |
| ASBB | ARABIAN STUD BOOK – BABOLNA |
| AV | OLD GERMAN PEDIGREES |
| AVS | NETHERLANDS STUD BOOK |
| BAPS | BELGIAN ARABIAN HORSE SOCIETY |
| BASB | BELIZE AGRICULTURAL SOCIETY |
| BGASB | BULGARIAN ARABIAN HORSE STUDBOOK |
| BHR | AMIRI STUD OF BAHRAIN |
| BHRSP | BAHRAIN SUPERVISED STUDS |
| BOLSB | BOLIVIAN ARABIAN HORSE STUD BOOK |
| BRSB | BRAZILIAN STUD BOOK |
| CAHR | CANADIAN ARABIAN HORSE REGISTRY |
| CHAV | SWISS ARABIAN HORSE SOCIETY |
| CHSB | CHILEAN STUD BOOK |
| CRAS | COSTA RICA ARAB HORSE SOCIETY |
| CRSB | CZECH REPUBLIC STUD BOOK |
| CSB | COLOMBIAN STUD BOOK |
| CZSB | SLOVAKIA & CZECH REPUBLIC STUD BOOK |
| DAV | OLD GERMAN STUD BOOK |
| DB | DESERT BRED |
| DSAH | DANISH ARABIAN HORSE SOCIETY |
| EAO | EGYPTIAN AGRICULTURAL ORGANIZATION |
| EAOPB | EAO - PRIVATE BREEDERS SECTION |
| EGSB | ROSTOCK ZOO - EAST GERMANY |
| EGYPT | EGYPT |
| FAR | FINNISH ARAB HORSE SOCIETY |
| GASB | GERMAN ARABIAN STUD BOOK |
| GSB | GENERAL STUD BOOK – ENGLAND |
| HSB | HAMDAN STUD BOOK |
| IASB | ISRAELI ARAB HORSE SOCIETY |
| INOC | INOCENDVOR – YUGOSLAVIA |
| IOHB | INCHASS ORIGINAL HERDBOOK |
| IRAN | ARAB STUD BOOK OF IRAN |
| IRAQ | IRAQI ARABIAN STUD BOOK |
| ITSB | ITALIAN STUD BOOK |
| KSB | KUWAITI ARABIAN STUD BOOK |
| LASB | LITHUANIAN ARABIAN STUD BOOK |
| LBN | LEBANON |
| LIBY | LIBYAN ARABIAN STUD BOOK |
| LSB | LEBANESE STUD BOOK |
| MSB | MOROCCAN ARABIAN STUD BOOK |
| NAHF | NORWEGIAN ARABIAN HORSE ASSOC |
| NZHS | NEW ZEALAND ARABIAN HORSE BREEDERS SOCIETY |
| OMAN | ROYAL OMANI STUD BOOK |
| PARA | PARAGUAY ARABIAN STUD BOOK |
| PASB | POLISH ARABIAN STUD BOOK |
| PKSB | PAKISTAN STUD BOOK |
| POL | EARLY POLISH PEDIGREES |
| QASB | QATARI STUD BOOK |
| RAS | ROYAL AGRICULTURAL SOCIETY |
| RASB | RUSSIAN ARABIAN STUD BOOK |
| RHCA | HAITI ARABIAN STUD BOOK |
| RJSB | ROYAL JORDANIAN STUD BOOK |
| ROSB | ROMANIAN ARAB STUD – MANGALIA |
| RUS | IMPERIAL STRELETSKY STUD |
| SAHR | SWEDISH STUD BOOK |
| SASB | SOUTH AFRICAN STUD BOOK |
| SAUDI | SAUDI ARABIAN STUD BOOK |
| SBA | ARGENTINEAN ARABIAN STUD BOOK |
| SBCH | CHILE SBCH |
| SBFAR | FRENCH STUD BOOK |
| SBWM | GERMAN STUD BOOK – MARBACH |
| SNA | CHILE SNA |
| SSB | SPANISH STUD BOOK |
| SYSB | SYRIAN ARABIAN STUD BOOK |
| TKSB | TURKEY - OLD PEDIGREES |
| TRNST | IN TRANSIT |
| TSB | TUNISIAN ARABIAN STUD BOOK |
| UAE | UNITED ARAB EMIRATES STUD BOOK |
| UASB | URUGUAYAN ARABIAN STUD BOOK |
| UNPUB | UNPUBLISHED |
| VASB | VENEZUELA STUD BOOK |
| VENZ | VENEZUELA |
| WEIL | WEIL STUD – GERMANY |
| ZSB | ZIMBABWE STUD BOOK |
| | |
| --- | --- |
| ARP | Arapahoe Park |
| ATL | Atlantic City |
| BMF | Bay Meadows-San Mateo County Fair |
| BND | Bandera Downs |
| BOI | Les Bois Park |
| DAY | Dayton Days of Sport |
| DEL | Delaware Park |
| DEP | Desert Park Exhibition |
| DG | Cochise County Fair at Douglas |
| DUN | Greenlee County Fair at Duncan |
| ED | Energy Downs |
| FER | Ferndale (Humboldt County Fair) |
| FNO | Fresno (County Fair) |
| GPR | Grand Prairie (Canada) |
| GRP | Grants Pass |
| HAP | Grays Harbor Park |
| HOL | Hollywood Park |
| HOU | Sam Houston Race Park |
| KAM | Kamloops (Canada) |
| KIN | Kin Park (Canada) |
| KSP | Kalispell (Flathead Fairgrounds) |
| LA | Los Alamitos |
| LBG | Whoop-Up Downs (Canada) |
| LS | Lone Star |
| MIL | Millarville (Canada) |
| MOF | Mohave County Fair |
| MPM | Mount Pleasant Meadows |
| NMP | Northhampton |
| PAD | Bluegrass Downs (Paducah) |
| PLA | Playfair |
| PLN | Pleasanton (Alameda County Fair) |
| PM | Portland Meadows |
| POM | Pomona |
| PRE | Prescott Downs |
| RET | Retama Park |
| RIL | Rillito Park |
| ROP | Round-Up Park |
| SAC | Sacramento (Calif. State Fair) |
| SAF | Graham County Fair at Safford |
| SDY | Sandy Downs |
| SOL | Solano (County Fair) |
| SON | Santa Cruz County Fair |
| SR | Santa Rosa |
| STK | Stockton |
| SUD | Sun Downs |
| TAM | Tampa Bay Downs |
| TRM | Trinity Meadows |
| TUP | Turf Paradise |
| UN | Eastern Oregon Livestock Show |
| WCD | Wells County Fair |
| WMF | Western Montana Fair |
| WTS | Waitsburg Race Track |
| WW | Walla Walla |
The logo indicates the horse has been enrolled in the Arabian Breeders Sweeptakes Program. Breeding Entries are eligible to earn allocated prize money at Regional and National Events.
AHA's premier recognition program for horses that actively compete. Achievement Awards symbols printed behind a horse's name provide a visible sign of honor and prestige. Horses earn points for competing and placing in shows and AHA-recognized events used in the Horse Achievement Awards program (see the website for specifics).
Legion of Honor "+"

Legion of Supreme Honor "+/"
Legion of Excellence "+//"


Legion of Merit "++"

Legion of Supreme Merit "+++"
Legion of Masters "++++"
Legion of Supreme Honor and Legion of Merit "++/"
Legion of Supreme Honor and Legion of Supreme Merit "+++/"
Legion of Merit and Legion of Excellentce "++//"


Legion of Supreme Merit and Legion of Excellence "+++//"

Legion of Masters and Legion of Supreme "++++/"
Legion of Masters and Legion of Excellence "++++//"
While we are able to provide the pedigree information for the purebred parent and the Half or Anglo-Arabian parent, we are unable to do the same for the non-Arabian or grade parent, as this information is not in our database. If the non-Arabian parent is registered (designated by the breed abbreviation and registration number next to the name), we recommend contacting that registry directly for more pedigree information.
Prior to 1990, Half-Arabian and Anglo-Arabian records were not fully computerized. While some of these records have been researched and rebuilt due to activity such as registration of offspring or transferring ownership, many others have not. You will find that the incomplete records display only the registered name and registration number. We have begun the process of rebuilding these records using archived documentation. However, there are 200,000 + records to be rebuilt, and this will take some time. We appreciate your patience in this endeavor. We know how important it is to have complete and accurate data available for the Half-Arabians and Anglo-Arabians and will do our best to offer complete information as quickly as possible.
If you find an incomplete horse record for which you have the Certificate of Registration, please feel free to fax or send us a copy and a request that the record be updated.
When the non-Arabian parent is registered with another breed organization, you will find an acronym that has been created for that breed association next to the name.
Half-Arabian registration numbers begin with a number and letter combination, such as "1A" or "2A". These combinations designate the degree of Arabian blood present. Please see the following chart for additional information:
1A=1/2
2A=3/4
3A=7/8
4A=15/16
5A=31/32
6A=63/64
7A=127/128
8A=255/256
9A=511/512

If you are looking at a horse registered with the Canadian Partbred Arabian Registry (CPAR) the following designations will apply:
1A= < 62.5%
2A= > 62.5% and < 81.25%
3A= > 81.25% and < 90.63%
4A= > 90.63% and < 95.31%
5A= > 95.31% and < 100%
Founded in 1969, The Pyramid Society is a fraternal member-based organization of people interested in Arabian horses of Egyptian bloodlines. Ownership of a horse is not a prerequisite of membership. The Society does not register horses and recognizes the Arabian Horse Association as the sole registry by which it is guided. Only horses that are or would be eligible for registration by the Arabian Horse Association based upon pedigree are considered purebred Arabians by The Society.
The purposes of The Pyramid Society are to preserve and perpetuate Egyptian bloodlines as a nucleus of outcross blood and to encourage use of that outcross blood as a source of the classic refinement so necessary to the breed and for which the Egyptians are prepotently line-bred.
For more information on the Pyramid Society you can visit their website at www.pyramidsociety.org.
The Pyramid Society has established definitions of such bloodlines which are acceptable for its expressed purpose of promoting and perpetuating Egyptian Arabian bloodlines. These are:
Straight Egyptian Arabian
To qualify as a Straight Egyptian, as defined by The Pyramid Society, a horse must trace in every line of its pedigree to a horse which falls into the following categories:
Registered or eligible by pedigree for registration by the Arabian Horse Registry of America; and
Traces in every line of its pedigree to horses born in Arabia Deserta; and
Traces in every line of its pedigree to a horse which falls within one or more of the following categories of horses:
owned or bred by Abbas Pasha I or Ali Pasha Sherif
used to create and maintain the Royal Agricultural Society (RAS)/Egyptian Agricultural Organization (EAO) breeding programs, with the exclusion of Registan and Sharkasi and their lineal descendants
a horse which was a lineal ancestor of a horse described in (A) or (B) above; and
other than those excluded above, who was conceived and born in a private stud program in Egypt and imported directly to the United States and registered by the Arabian Horse Registry of America prior to the extension of the EAO's supervision to private Egyptian stud programs as reflected in Volume IV of the EAO's Stud book.
Egyptian-Sired and Egyptian-Related horses, as defined by the Pyramid Society:
Egyptian-Sired: a horse by a Straight Egyptian stallion and out of a purebred mare who is not Straight Egyptian.
Egyptian-Related: a horse, born prior to 2005, whose grandsires are both Straight Egyptian, and whose granddames are purebred Arabians that are not Straight Egyptian. Horses registered prior to 2005 that meet this definition were "grandfathered" in and are eligible for Society-managed programs for the remainder of their lives.
The information provided by the Pyramid Society is based on research found in various references and is subject to interpretation, and such sources are not always in agreement with each other. While every effort has been made to provide current and accurate information, there is always the possibility for omissions or errors. The Pyramid Society disclaims itself, its agents, representatives, directors or trustees, from any form of liability or responsibility for any inaccuracies, or opinions, or for any damages or other consequences suffered as a result of reliance upon this information. Should any errors or omissions be discovered please notify the Pyramid Society regarding any corrections that need to be noted for future updates.
The root stock of Sheykh Obeyd breeding is composed of 66 Arabian ancestors who were bred by, acquired by, or introduced into the gene pool by these 7 original breeders: Abbas Pasha, Ali Pasha Sherif, Ahmed Bey Sennari, Prince Ahmed Pasha Kemal, Khedive Abbas Hilme II, the Blunts and of the RAS (under the auspices of Dr. Branch). Sheykh Obeyd Arabians descend in all lines from any combination of those 66 original ancestors. In addition to being Al Khamsa, all Sheykh Obeyd Arabians are Asil Club qualified, as well as Pyramid Society qualified (with the exception of the descendants of Kars).
For more information go to the Sheykh Obeyd Foundation website.
Al Khamsa, Inc., founded in 1975, is a not-for-profit organization that is devoted to the preservation of the horse of Bedouin Arabia. Al Khamsa, Inc. draws admirers of such horses together through education and research. The horses of interest to Al Khamsa, Inc. meet two criteria: (1) those horses that Al Khamsa, Inc. reasonably assumes to descend entirely from Bedouin Arabian horses that were bred by the nomadic horse-breeding tribes of the deserts of the Arabian Peninsula and (2) have breeding descendants in North America.
Horses that meet the above criteria constitute The Al Khamsa, Inc. Roster. Al Khamsa, Inc. has traditionally called the Roster horses "Al Khamsa Arabians." The term "Al Khamsa Arabian," as used by Al Khamsa, Inc., is not synonymous with or interchangeable with any term or designation used by any other organization or entity.
The Roster includes breeding horses in North America and their ancestors. It begins with Foundation Horses (175 as of 2004) and lists all descendants from them with bloodlines still breeding in North America. Foundation Horses are the earliest horses that meet the criteria.
The Roster changes constantly. Such factors as exports, imports, geldings, deaths, eligible progeny and registration authorities affect The Al Khamsa, Inc. Roster.
PLEASE NOTE:
The horses marked in DataSource as "Al Khamsa, Inc." are not all of the horses in the Al Khamsa, Inc. Roster. Only Roster horses that are registered with the Arabian Horse Registry (AHR) and the Canadian Arabian Horse Registry (CAHR) are marked. The Roster also includes horses that are not registered with AHR or CAHR. In addition, many AHR and CAHR horses are marked that are not in the Roster. These horses are "Al Khamsa Arabians" by pedigree, but do not meet the criteria of the Roster simply because they have no living and breeding descent in North America.
The list of horses marked "Al Khamsa, Inc." in DataSource has been provided to the Arabian Horse Association by Al Khamsa, Inc. The list will be updated quarterly by Al Khamsa, Inc.
For definitive information about Al Khamsa, Inc. and Al Khamsa Arabians, please see our website www.alkhamsa.net
Please send any questions, perceived errors/omissions to info@alkhamsa.org.
If you're looking for a companion who'll be your partner in adventure or competition--and your friend for life--then you'll want an Arabian horse. No other horse can match the Arabian for beauty, athleticism, devotion and companionship.
Designed for the passionate, consumed horse person, the Arabian horse brings thousands of years of pure breeding together with its beauty, intelligence, personable nature, and athletic abilities, requiring only what it will freely return to its owner: mutual respect and lasting companionship.
Before you even decide to buy, evaluate your own skill level and devote some serious thought to what you expect to do with your horse once you have bought it. Will you pleasure-ride, learn a new horse-related skill, or participate in the show ring. You will likely change your focus once you have your horse; perhaps it will be very talented in some direction or a great endurance prospect or a happy and able jumper. The Arabian horse, in particular, is capable of nearly any athletic accomplishment towards which you aim. There is no law that says you must stick with your original ideas; common sense, however, dictates that you operate within the ability-range of both you and your horse.
If possible, seek the advice of a reputable horse person, preferably someone without a financial interest in your purchase. When you have found the horse you really like ask for a veterinary check by a veterinarian of your choice; it will be an invaluable investment.
If the horse you are evaluating is trained for a specific activity, be sure to get on the back of the horse and see how it responds to your cues. Match your wants and desires with the attributes of the horse under consideration and make sure that it meets your specific needs; only then discuss a price for the horse. Your goal should be to find a horse that will provide you with long-term enjoyment. Purchasing the wrong horse because the price was right, won't make you a happy horse owner.
As with people, great offspring can come from both humble backgrounds and champion bloodlines. The opposite is just as true. When evaluating a potential purchase first check the horse's conformation, gait, attitude, athletic ability, and then its pedigree.
Where to Find an Arabian
Finding the Arabian that's right for you is easier than you might imagine. When shopping, knowledge and patience are your best tools. Look for a horse that meets both your needs and price range. When considering young fillies or colts, the personality, disposition, conformation, type, action and athletic ability of the parents offer clues to how the horse will look and perform at maturity. And, since Arabians often remain active longer than other breeds, an older horse may be perfectly suitable and a very good buy.
Many people have the mistaken impression that all Arabians are expensive. The truth is, Arabians can be bought as reasonably as horses of other breeds and excellent Arabian horses are now accessible to all horse enthusiasts. Best of all, with more living Arabians in the U.S. than in all the other countries of the world combined, we have a stunning variety of Arabians from which to choose.
When looking for an Arabian of your own, check in your local paper, at your tack or feed store or in regional magazines devoted to horses or horse clubs. Use our Arabians for Sale Classifieds to find thousands of purebred Arabian Horses for Sale online. You can also pay a visit to an Arabian farm or breeder in your area by going to the online Arabian Farm Directory. If you are not quite ready to buy, but would like to visit an Arabian farm, you can search for one of our Discovery Farms right online.
Appointment Time
Make an appointment to see the horse you are interested in; turn up on time; and be candid with the seller about what you are looking for. If you truly like the horse, ask if the seller will accept terms if the purchase price is more than you had planned for. It is not unusual to make an offer on a horse, but do not insult the seller by making a ridiculously low one; explain that you are working with a pre-set budget and you will be pleasantly surprised at the number of sellers who will work with you given a measure of courtesy and good will on both sides. Also, ask to see the horse's health records and make a note of the names and phone numbers of the seller's veterinarian and farrier. In addition, ask to see the horse's AHA registration papers. You'll need that document signed on the back in order for you to transfer the horse's registration into your name.
If you purchase a horse on contract, be sure that the contract is in writing, properly signed, dated and witnessed as called for by the statutes of the state you live in. Also, contact the Arabian Horse Association (303-696-4500) to verify the horse's registration status and current ownership.
Finally, recognize that it is possible to absorb all this good advice and then walk into a barn or farm or field and fall completely, irrevocably in love. The horse may not be what you planned on, may look totally different from your image of your ideal animal, may not suit your predetermined plans at all. It will nevertheless totally absorb your interest and possess your imagination and will be the only possible horse for you.
An Arabian, in particular, possesses incredible qualities of personality, equine intelligence and striking beauty that will wind themselves around your heart and become an essential part of your life. The greatest and most lasting rewards will come from that almost inexplicable bond which can arise between human and horse, from that completely uncalculating companionship which these marvelous animals give so generously.
Buyers Checklist
First, call and ask questions prior to your visit:
Date foaled, sex, color and height?
Is the horse registered? Look up AHA registration information.
Do you have the original registration papers?
Are you the registered owner?
How is the horse's health?
Does he or has he had any specific health problems?
How would you describe the horse's temperament?
What is the horse's training history?
Can the horse be loaded into a trailer?
What has the horse been doing recently? (specific disciplines)
Is the horse kept mostly in a stall or pasture?
Does the horse have any bad habits or vices?
Has the horse spent much time with other horses, or mostly alone?
Who owned the horse before you?
If I come out to see the horse, do you have somewhere where I can ride them? If not, are you willing to take the horse somewhere where I can ride him or have someone demonstrate riding him?
Can I have a vet check the horse out before I make my final purchase decision?
Second, visit the horse where it's kept.
Does the horse's overall appearance look healthy?
Do you notice any soundness problems?
Do you sense an attraction to the horse? Remember it will become part of your family.
Do you like the overall appearance of the horse (color, head, expression)?
Do you sense anger, pain, fear, lethargy or sedation?
How is the horse's conformation relative to the purpose you have for purchasing it? If you're inexperienced, have an experienced horseperson evaluate the horse for you.
Next, evaluate the horse's performance with the owner or handler:
Standing tied
Walk, trot, stop, backing up
Round pen longing
Saddling and bridling
Have the handler show you how it performs if you are purchasing for a specific discipline.
Then, test ride the horse:
Try all of the above yourself with the owner/handler present. Be sure to use the proper protective gear.
Be sure to try out the horse for the specific discipline for which you are buying the horse.
If you don't feel comfortable doing this, look for another horse. This is the first step in your relationship with the horse.
Finally, check the horse's registration and health papersFirst, call and ask questions prior to your visit:
Be sure to ask to see the registration papers and verify the horse's age and lineage. Check to make sure that the horse matches the information and the markings as presented on the official registration certificate. Also, check to see if the person selling you the horse is the registered owner. If so, the seller should sign the back of the certificate and provide you with a bill of sale. If not, make sure that the seller provides you with a bill of sale from the registered owner to the seller and a bill of sale from the seller to you. To register the horse you will need the official registration certificate, signed, and documented proof of the chain of ownership. Don't assume that you can get the paperwork straightened out later just because the horse is a purebred Arabian. After the sale you will want to conduct an official transfer of the registration for the horse into your name and receive an updated Registration Certificate to validate that you are the current registered owner.
Even if you do not plan to use the horse in shows, races or for breeding where registration is required, the registration certificate will help retain the horse's value. Besides, you never know what the next owner may want to do. Too often an older horse is purchased for a son or daughter who wants to show, but the certificate was not transferred properly creating enormous difficulties for the new owner.
A veterinary check can help you make an informed decision. Depending on how well you know the owner or what type of assurances you may have in a purchase agreement, you may want to hire a veterinarian to do a pre-purchase exam.
What Will It Cost
As you might imagine there are no set rules when establishing prices but be assured that Arabians today are priced competitively with other popular horse breeds. And, you will find that very good horses are available in every price range. This range is established by the seller's circumstances, the horse's age, level of training, conformation, pedigree, show record (if any), and even by the geographic area in which you are looking. As you review the prices of horses you will see these prices separate out into distinct categories. We won't attempt to tell you what to pay for a horse, but rather give you some general guidelines for evaluating what you should expect for your money.

Part of the cost is made up of its structural soundness and the level of training the horse has had for a specific activity. The other part will consist of the "market value" of the horse's potential based on its blood lines or its actual performance history if it has been involved in a competitive activity. Generally, as prices go up, more and more has been invested in the training of the horse and the closer the horse is to being immediately ready-to-go for a particular activity, whether it be trail riding, showing or even racing. If you are looking for an older horse, find out about its recent history regarding use; by whom, how often, and about any peculiarities. Most of all, get on that horse and ride it for a while. And, don't forget the vet check.
When prices begin to get very high for foals or younger horses, the market is putting a much higher value on the horse's pedigree, implying a potential for a great show horse, race horse, etc., than it is on conformation or current performance. On the other hand a proven champion show horse or race horse with breeding potential, like any known entity, will be in much greater demand and therefore claim a much higher price.
The thing to remember is that, although a history of champions in the horse's pedigree can be a good indicator of potential for that horse, without proper conformation, a good attitude, athletic ability and proof of soundness of structure, the horse most likely will not meet your expectations. On the other hand, there are many great horses that meet all of the criteria for great form, ability, and disposition that come from more humble backgrounds and go on to be that dream horse everyone is looking for, or even a champion athlete.
Check out the Arabians For Sale classified ads on this web site for a realistic view of current prices for Arabian horses. You'll find horses in all price ranges and for all uses.
Finalizing the Sale
Sometimes owners do have a fixed price on a horse, but more often than not the sales price is negotiable. Offers tend to vary from five to fifteen percent off the listed price depending on how motivated the seller is. The higher the price, the more you'll be able to negotiate. If the horse checks out and you really want it, make an offer. Sellers will often throw in some perks like lessons, temporary boarding or transport to your location to maintain the sales price. These can be helpful depending on your individual situation.

The best advice is to use a legal sales contract to eliminate any possible misunderstandings in the future. If any additional perks were offered, make sure that they are itemized in the sales agreement. Remember, once you sign the contract, you own the horse. If you plan to get insurance, it should be effective the moment your purchase is consummated, just in case something happens prior to getting the horse home.
Pre-purchase Exam or Vet Check
Recommended to assist buyers of any horse is the "Pre-purchase Exam." Your local equine practitioner can help you assess the health and soundness of the horse you are looking to purchase. Those who are familiar with the owner or farm may accept guarantees stipulated in the purchase agreement. In either case, knowledge of the horse's physical condition will help you better care for your horse over its life.
Physical exam
A thorough physical exam, (eyes, mouth, teeth, heart, body condition, reproductive exam, physical history, vaccination history, worming history) often precede a "soundness exam." where by watching the horse in motion or even by taking radiographs, a potential athletic compromise or current lameness is ruled out. Of course, the condition of the horse should be balanced against its age and intended use.
Eyes - The Arabian horse has large, expressive eyes, widely set for excellent vision especially to the rear. Examination of the eyes is therefore critical, and recognition of any past injury or ongoing inflammation is important.

Dental check - All horses need dental check ups regularly. Horses ridden with a bit, in particular, are far more comfortable with their "wolf teeth" removed, if present, and with a "bit seat." A bit seat is the application of a tooth file, (a "float") to round off the upper and lower premolars so that the bit seats itself more comfortably in the horse's mouth.
Heart - Horses, like people, can and do have heart "murmurs," arrhythmia (irregular beats), and other audible normal and abnormal heart conditions. Some murmurs, for example, are perhaps acceptable in an older mare to be used strictly for breeding, whereas the same murmur might spell potential disaster in a seven-year-old 100-mile endurance horse.
Physical condition - The physical condition of the horse predicts its future, and reflects its past. A very fat horse has not been worked consistently, for whatever reason, and will take some time and care to be "fitted up" without stress or strains. A very thin horse, on the other hand, may be nervous, unwell, have teeth problems, or be low-man in the pecking order for food. In either case, a diagnosis should be made prior to purchase.
Breeding soundness - Any stallion or mare to be used for breeding should be proven "reproductively sound." In mares with unknown recent reproductive history, a full physical examination of the reproductive tract, often including ultrasonography, culture and uterine biopsy of older mares, may be advisable. Stallions must have drive, and acceptable numbers of fertile spermatozoa, or have, as proof of their breeding soundness, recent live and healthy foals. Nevertheless, an examination of the stallion's reproductive tract may provide important information prior to obvious physical problems.
Physical history - Old injuries, behavior problems, past surgeries, past medical crises in the horse's history should be reviewed in light of future plans for the horse. A veterinarian with experience will have some ability to predict long-term consequences results from any such historical documentation.
Worming history - Perhaps one of the most critical historical pieces of information to you as a potential buyer is the horse's worming history. The results of a poor worming schedule are often severely compromised vessels in the gut, which in time may result in a bowel without blood perfusion, death of that portion of bowel, colic or even death of the horse. Be sure of a good worming history, and continue yourself to maintain a proper worming program based on sound advise, and if necessary, on a microscopic fecal examination.
Vaccinations - Each area of the country and world has its particular endemic diseases for which it is advisable to vaccinate your horse. Your equine practitioner is specifically aware of horse diseases, and can help you determine your horse's future needs locally, country-wide, and even world-wide, if necessary.
In addition to the vet check you should check the housing condition that your future horse presently inhabits. Many keys to this horse's future lay before the observant person who takes note of the way the horse is kept on a daily basis. An intelligent buyer visits his potential selection several times, at a varied schedule, unless he or she is familiar and confident in the seller.
Set a Price
Be sure you are completely clear on the asking price and terms, if any. If you are not totally confident in your ability to price a horse, ask for help. There are enough professional horse people out there who can and will help you arrive at a fair price; once you have arrived at it, stick to it. If you can, accept terms, but make sure to have a contract clearly stating the terms in writing. Contracts for the sale of horses exist in pre-printed form. If you agree to sell on contract, be sure the buyer understands that the official registration papers will only be handed over on fulfillment of the agreement.
Let the world know
When selling your horse(s) you must first identify your potential market in order to make sure to spend your advertising dollars as productively as you can. Most communities have local and statewide horse publications, as well as weekly and daily newspapers with "horses for sale" columns. Today there are also numerous websites that accept classified ads. Check out the FREE Classifieds section of this site. If you decide to include a photo, be sure you have a good picture—nothing is worse than a poorly presented animal.
Networking is one of the seller's best forms of advertising. If you have lived in a community for awhile and know people who own horses, be sure to tell them that you are offering one of yours for sale. You would be amazed to know how many horses find excellent new homes by referral. This "network" should include your veterinarian, farrier, trainer, feed store, local 4H and Pony Club groups as well as members of the club to which you belong. If you happen to sell your horse through a professional or other intermediary, pay the agreed commission promptly—these can be one of your best sources of referrals.
Know Your Product
When you receive calls from people interested in your horse, screen potential buyers there and then; ask if they have owned a horse before, if the rider is a beginner or has had some experience, and if the horse is for a child or an adult. Also, ask what the potential buyer plans to do with his/her purchase. Ten minutes on the phone can save you lots of time.
Be clear in your own mind on the strengths and weaknesses of the horse you are selling and never hesitate to say that you feel the horse may be unsuitable for the buyer; stress good points, but be absolutely honest. Avoid discussing the horse's height over the phone; the majority of people have no idea how tall 15 hands high is, but all seem to think that any horse which stands less than that is too small, which is not true. Somewhere along the line, you may simply have to educate people on the issue of height in the Arabian breed.
Make the presentation
Once you have made an appointment for someone to look at your horse, do your best to present it well. Allow the buyers to see the horse in the stall, to watch him being brushed and tacked up if you are selling a riding horse; if the horse is for a child, arrange for a child you know to ride your horse; insist on helmets and proper shoes; lend a helmet if the buyers have not brought one. If you are selling breeding stock, arrange for a friend, neighbor or employee to show the horse in hand while you talk to the buyers about it.
Once the horse has been presented and put back in his stall or paddock, offer your visitors some refreshments. Have available a copy of the pedigree and some photos (use your cell phone camera to take pictures of the potential buyer and horse and send them a copy).
Think, "customer service"
If the potential buyer is truly interested in the horse, always offer them the opportunity to come back several times to see it again. Suggest they arrange for a vet check by a veterinarian of their choice and, if they appear likely to purchase the horse, offer them a perk, like up to a month of free board—you'll be amazed what can make or break a sale. If the buyer decides to buy the horse but doesn't have a way to transporting it, suggest haulers who do an excellent job or offer to deliver the horse within a specified distance of your farm.
When buyers are first-time horse owners, give them a complete list of veterinarians, farriers and reputable trainers in the area, a folder with the horse's health history, detailed instructions for the horse's care, and an invitation to call at any time for help or advice.
A final suggestion:
Trust your intuition. You want to place your horse in a loving, appreciative home where he will become an ambassador for the Arabian breed. Many times those who purchase horses from you will come back to purchase again and again, and even become part of your circle of horse enthusiast friends. Do everything you can to help your buyers feel happy with their purchase; you will gain friends, your horse will have a good life, and you will have made a positive contribution to the Arabian horse.
Arabian Type, Color and Conformation
The Arabian's conformation and "type" have been selectively bred for longer than any other breed. Records reflecting desert-bred animals still connect today's Arabian horse's traits with particular traits prized many hundreds of years past. Such documentation makes it possible to retrospectively study heredity, to then predict what good and bad characteristics will be likely to pass from a given stallion and mare into the next generation.
The Bedouins of the Arabian desert were dependent for survival on their Arabian horses. While they valued the beauty of their horses, they were equally adamant that their horses be strong, with deep chests, straight legs, large joints and good lungs to carry them across large stretches of their desert homeland.
The Arabian's distinctly elegant head has been represented artistically for literally thousands of years, to this day appearing in nearly all horse related advertisements for every conceivable equine related commodity. Referred to as "type," defined, described, and judged for centuries, the shape and beauty of the Arabian head remains its most distinctive and sought-after quality.
In general, Arabians have a short, straight back (usually 23 vertebra as compared to 24 with most other equine breeds), perfect balance and symmetry, a deep chest, well-sprung ribs, deep girth and strong legs of thick density. An Arabian can most readily be identified by its finely chiseled head with a dished face, long arching neck and high tail carriage.
Characteristics
Although no individual animal will possess all of the qualities described below, the composite, nevertheless, epitomizes the finest specimens observed:
His skeleton is characterized by a relative shortness of skull, a slenderness of the lower jaw, a larger size of brain case. There are fewer vertebrae in the back and tail and a more horizontal pelvic bone position.
The Arabian's head is a thing of beauty, the upper half being larger in proportion to the whole size of the horse, especially in the depth across the jowls.
The head has a triangular shape that diminishes rapidly to a small and fine muzzle, which is so small that it can be enclosed in the palm of the hand. The lips are fine and thin. The nostrils are long, thin, delicately curled, running upward, and projecting outward. In action or when the horse is excited, the nostrils may become greatly dilated.
The eyes are set far apart and are large, lustrous and, when aroused, extremely attentive. They are set more nearly in the middle of the head.
It is interesting to note that the distance from the top of the head to the top of the eyes is often within one inch of the distance from the lower eyelid to the top of the nostril. The overall appearance of the Arabian head is frequently enhanced by a slight protrusion over the forehead and extending to just below the eyes, called the "Jibbah" by the Arabs, and greatly prized.
The cheek bones spread wide apart at the throat, often between five or six inches, enabling the muzzle to be drawn in without compressing the windpipe, and permitting the animal to breathe easily when running.
The ears, smaller in stallions and of good size in mares, are pointed, set evenly together in an upright position, and of great flexibility.
Generally speaking, the head should be lean, somewhat well chiseled, and showing energy, intelligence, courage and nobility. The neck is long and arched, set on high and run well back into the withers.
In height, the Arabian horse generally measures 14.1 to 15.1 hands at the withers, although some horses measure above or below this height.
The animal's coat is thick, close, fine, soft and silky. The mane and tail are long and very fine in texture.
The Arab may weigh from 800 to 1,100 pounds, but there are individuals who exceed this weight occasionally.
In color, Arabians are bay, gray, chestnut and black, with an occasional roan. Common markings are stars, strips or blaze faces, as are also snip noses, a white foot or more or white stockings.
Arabians that appear white are actually gray, since white looking Arabians have black skin. White hair on horses grows out of pink skin as can be found under an Arabian's white markings.
The Arabian Horse Association verifies breed purity through blood typing and pedigree for every foal registered from purebred Arabian mating. The Association makes this information available as a service-an invaluable tool for the serious horseperson in breeding selection.
Outfitting Your Arabian
Arabian horses require the same kinds of saddles, bridles and stable halters as other breeds. However, most Arabians require slightly different sizes.
Arabians usually need western bridles that are smaller in the cheek and brow areas. A cob size English bridle (the smallest size made for horses) fits most Arabians. Breast collars made for Arabians usually fit better than those designed for larger, more broad-chested breeds such as Quarter Horses. If used, a martingale designed for Arabians fits best because it accommodates the breed's higher neck set and head carriage.
Because Arabians usually have more refined heads with smaller muzzles than other breeds, they also need smaller bits. The typical Arabian bit is size 4 3/4 (4 3/4 inches across). Horses with narrower jaws (from side to side, where the bit lies in the mouth) may need a 4 1/2. Arabians with wider mouths may take a standard horse size bit (5 inches).
Retail and mail-order tack stores often sell tack specifically designed to fit Arabian horses. However, some standard horse equipment also may fit. For example, western saddle blankets and pads that are 30 inches x 30 inches will fit most Arabians. Pads measuring 29" down the back may fit even better. A 30-inch western cinch usually fits an Arabian, and an English girth of 44 to 46-inches should fit the average Arabian (girth sizes start at 38 inches).
Most Arabians are wide (very round) in the barrel. The "well-sprung" ribs which contribute to the Arabians exceptional lung capacity and stamina result in wider backs. Because of this, "Arab" saddle trees (the underlying structures of saddles) are wider than standard saddle trees. A wide tree also prevents the saddle from rubbing low and/or wide withers.
Arabians usually have short backs, which help them carry heavier weights than longer-backed horses. Because the Arabian's back is shorter, the western saddle's skirt should not be more than 27 inches long (measured down the horse's back). The shorter skirt prevents chafing as the hind legs move forward. There are a variety of English saddles, depending upon the style of riding. Most riders use dressage, hunt seat (jumping), or "all-purpose" English saddles (designed for both the flat and jumping) for casual pleasure riding. Lightweight saddles designed for endurance riding are also popular for competition and trail riding. In English Pleasure classes at Arabian shows, cutback saddles are used. Riders in Show Hack classes use dressage saddles, and hunters and jumpers use hunt saddles.
To learn which style of tack is best for your horse and how to fit it, observe what others use and ask experienced Arabian owners for guidance. Tack store employees can also help you find the proper fit for your Arabian. The sizes suggested here are general guidelines. Individual Arabians vary, and all tack should be chosen to provide the most comfort to the specific horse.
Feeding Your Arabian
Most Arabian horses use their feed efficiently, which means that they may require less feed than other breeds. Perhaps this is because their ancestors came from the deserts of the Middle East, where feed was scarce. Also, because Arabians also are smaller in comparison to larger, heavier breeds, they require less feed to maintain their weight.
This does not mean, however, that Arabians should be kept extremely thin or that they will thrive on poor quality feed. They need adequate calories and the same nutrients as any other horses. Like people, they need a proper mix of vitamins and minerals to stay in good shape and perform well.
If the horse is carrying the proper amount of weight, his contours will look rounded, rather than angular. You should feel the horse's ribs when you brush your hand across the horse's sides, but the ribs should not be visible. If they are, the horse is too thin and needs more feed. (If he's getting enough feed, have a veterinarian examine the underweight horse.)
Overfeeding also can create health problems. Feeding a horse too much rich feed or allowing a horse to become obese can cause founder (laminitis, a serious inflammation of the hooves). Feeding too much rich feed also can bring on a deadly bout of colic. So be careful when feeding grain, rich springtime grass, or other high-protein feeds.
Fortunately, it's easy to feed an Arabian properly. Feed an Arabian as you would any other breed: give it enough good quality feed to maintain its proper weight, along with plenty of fresh, clean water.
Horses' feed requirements change depending upon their age and kind of use. Good quality horse hay and/or pasture may be sufficient for a lightly used, mature Arabian pleasure horse. More calories are needed when horses are more active and during cold weather. Young, growing horses and breeding or show stock need additional grains or supplements. Horses that are heavily used also require grain, supplements, and perhaps electrolytes when especially stressed. All horses need constant access to a salt block and, if recommended by your veterinarian, mineral supplements.
For tips on feeding your Arabian properly, ask your veterinarian. You can also seek advice from Arabian horse owners whose horses are in good condition, or refer to books that discuss the feeding and care of horses.
The Joys of Breeding
There is much to know before you can consistently breed Arabian horses with good conformation, breed type, athletic ability, and the people-loving dispositions that have made the breed famous.
The primary goal of all serious breeders is improving the quality of their breeding stock, which can only be done over several generations. This takes years of study and commitment.
First, breeders need a clear vision of the type of horses they hope to produce. They must discover which bloodlines have successfully produced the kind of horses they want to breed, and which may do so in the future.
A breeding program is a plan for mating specific individuals or families of horses to consistently reach the breeder's goals. Skillful breeders adjust their breeding programs to emphasize successful nicks, eliminate disappointing crosses, and introduce additional bloodlines.
A horse's pedigree is its "family tree." However, breeders must know much more than just the names that appear in their horses' pedigrees. To breed for improvement, they must know both the good and bad points of their horses' ancestors, because either can be inherited.
Conscientious breeders carefully study each horse's genotype (traits inherited from the horse's ancestors, whether or not they appear in that individual). They also analyze the phenotype (appearance) of each individual. Every Arabian used for breeding should be a good representative of the breed. Horses with serious inheritable defects should not become breeding stock.
Breeders also must protect the breed from inheritable weaknesses that cause serious health problems or death. An example is Severe Combined Immunodeficiency Syndrome (SCIDS), for which there is a medical test to identify carriers. Responsible breeders must find out whether any of their mares and stallions carry such defects and, if so, avoid breeding them to each other.
Breeding Arabian horses requires time and commitment. The dedicated breeder's greatest reward is the satisfaction of producing quality Arabians that can be enjoyed by others.