Have you ever wondered how judging works, but didn't have an opportunity to learn about it? Region 10 is working to solve this with a series of judging clinics and our annual Regional Judging Contest.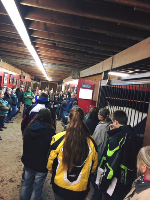 Judging is an educational activity that helps build confidence and life skills for many youth. Special classes are put together with four horses in each, and contestants must be able to orally defend their placings to a judge. Being part of a judging team teaches youth the skills to become an authoritative person and enhance their organizational abilities.
Beginning on February 4, 2017 we kicked off with "A view from Center Ring" at Hesten Park. We had three wonderful clinicians, Larry Hoffman, Van Jacobsen, and Hillary Hoffman. With about 55 people in attendance, there was a great turnout of people throughout the Arabian breed and 4-H/FFA members! We reviewed class specifications for Western, Hunter, English, and Halter, and went over how to look at horses and riders from a judge's perspective. Key terms for judging Arabians as well as tips for staying organized were also discussed, along with where to find additional resources for furthering education.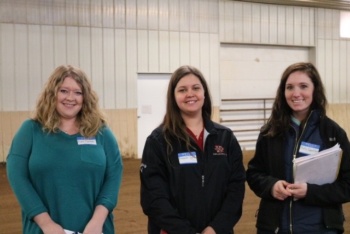 "Perfecting Oral Reasons" was our next judging clinic at Westridge Farms on March 18, 2017. There was an amazing 115 people in attendance! Here our speakers Kate Carlson, Amanda Solie, and Molly Schwister helped everyone judge Purebred Halter, Country Pleasure, Hunter Pleasure, and Western Pleasure. Kate spoke of public speaking, voice projection, eye contact, talking with a smile, taking notice of the little things such as your nail polish or boots, and visualization of the classes. Molly expanded on facial expressions, the format of reasons and what they are, and opening statements. Amanda really explained confidence, note taking, shorthand, placing your classes, final inspections, class cuts, legal handling of equipment, as well as degrees of difficulty and how they affect your placings.
A few things that Kate, Amanda, and Molly really covered were stances, attire, hairstyles, grants, and terminology. Looking professional, such as dark colored slacks and a blazer, is important for an Arabian Judging Contest. One of the best things you can do to improve your reasons is memorize your terminology, and use the correct breed terms.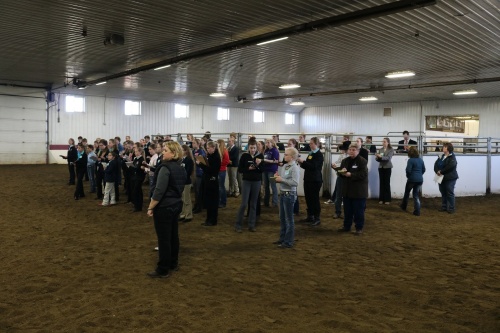 The Region 10 Arabian Judging Contest was held at Conway Arabians on April 1, 2017. We had 20 4-H/FFA, AHA, and Collegiate teams from MN, WI, and IA in attendance. Contestants judged Purebred and Half Arabian Halter, Western Pleasure, Hunter Pleasure, and English Pleasure. Awards and Cash prizes were given out in many categories! Overall 4H/FFA Team went to Corridor Competitive Equine, Overall AHA Team was the Minnesota Half Arabian Horse Association, Overall Collegiate Team went to the Multi College Team, Overall 4-H/FFA Individual Maquelah Schueler, Overall AHA Individual Katie Treadwell, and Overall Collegiate Individual Andrea Lowen were some of our winners. There was even a foal born during the reasons portion of the contest!
Many of our Region's youth enjoy taking part of the judging opportunities we have to offer. We see an increasing amount of interest and contestants each year, and hope that continues! The Arabian Horse Association has judging guides as well as class criteria on their website, and an official AHA YouTube channel with sample class videos to practice with. Any of these people mentioned are also willing to help you out if you have any questions about judging. I hope to see you on an Arabian Horse Judging Team soon!
About the Author
Katie Treadwell is the 2016-2017 AHYA Region 10 Co-Vice Director

Have a story you want to share on the blog? We'd love to hear from you; contact youth@arabianhorses.org today!
---