Hi everyone, my name is Desirae, and I'm the Region V youth co-director. I'm 18 years old, I just graduated high school this June, and I will be attending Washington State University in mid August.

I have a very interesting story about how I got into horses. Most people started riding when they were newborns, and always had horses. For me, I had that start with soccer. My dad has held many different positions with Federal Way United (Now Federal Way Football Club), the Federal Way Soccer Association, as well as in District III. I played soccer all of my younger years, always spent my weekends watching and playing games. Then, when I was 10 I enrolled in 4-H as a horseless member. I had a good friend who showed in 4-H so I would go to the shows to help them groom or whatever they needed. Three years later, at the county fair I met Nancy. Nancy asked me why I didn't ride, and when I told her she said she knew of a horse that I could ride! I was super excited, but I knew that my mom would probably say no. Surprisingly, she said yes, but I wouldn't show, no county fair, and so on. That didn't work out so well, the next year I was showing a half arabian mare (that I later purchased) named DMW Dancing Slippers (Legs) at the county fair.

And so it began. I showed at four county fairs total as well as two state fairs. I started showing the Arab circuit during that time. I didn't do so well though, always placing last or not placing at all. Thinking I was riding western when I was really hand galloping instead of loping. I had a trainer tell me that Legs was just not cut out to be a western horse and would only go hunter. Then I met Richard, with Opus Arabians in the fall of 2012. I started taking lessons from him and it turns out I really did have a western horse!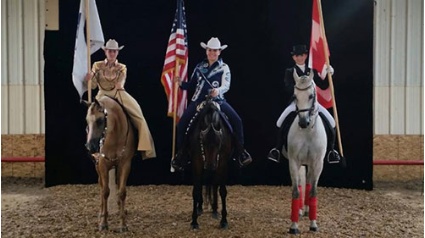 This month, I attended Youth Nationals. I was so honored to be there, just because I was always told that I couldn't. But I did! I showed in Showmanship, Western Pleasure JTR, as well as Western Pleasure JOTR. I made the cut from my section into the SF/F in Showmanship! I was so excited. My goal was to make just one cut. I did not top ten, but I felt that I had a great pattern, and really that is what matters!
Although, there was something even more exciting than making the cut in showmanship. I got to carry the American Flag on both Friday and Saturday night! This was such an honor, and a lot of fun!

The point I'm trying to get at here is that just because you are told you can't doesn't mean you should believe them. Prove them wrong! Remember, it is not always just about the ribbon, it is about the experience and the fun that you enjoy while you are there. I had so much fun at youth nationals, I wish that I could do it again.

In a week I get to go on a campout trail ride, this will be a great last hoorah before I go to college. This just shows how versatile our arabian horses are! Have a great rest of your summer, and go hug your arabians. Set goals, achieve them, set more.

The motto that I live by at the shows now is this, "Do your best, don't worry about the rest". The King County 4-H president says this before every fair. Thanks Jim, for all you have done.


About the Author
Desirae Woodford is a current Region 5 Co-Director
Have a story you want to share on the blog? We'd love to hear from you; contactyouth@arabianhorses.org today!
---