Seminars & Schools: Education and Commitment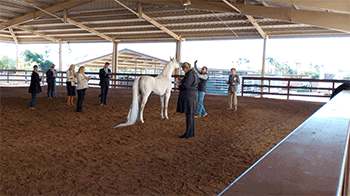 With a mission of education, the AHA Judges & Stewards office offers a variety of learning and educational opportunities, including: the Arabian Horse Judges & Exhibitors School, the Arabian Horse Judges Evaluation, the Arabian Horse Judges Seminar and National/Regional Interviews.
2022 School December 1 - 3
(open to anyone, required for potential judges)
Registration Due November 18th - $375
Classroom & Testing: December 1st & 2nd
Live Judging: December 3rd
2022 Evaluation December 2 - 4
Registration Due November 4th - $375
Testing - December 2nd
Live Judging - December 3rd
Interviews - December 4th
If you are interested in becoming a USEF 'r' Arabian Judge, you must submit a licensing checklist application on the USEF website and have all eligibility requirements marked as complete prior to attending the Evaluation. For a helpful Power Point on submitting a checklist, please click here.
In order to submit a checklist, you must be current on USEF's Safe Sport Policy, which includes Safe Sport Training and passing a criminal background check. It is recommended that you submit the background check a minimum of three to four weeks in advance of the Evaluation, to insure it has time to clear and you have time to submit a checklist prior to attending. More information about the Safe Sport Policy is included in the Power Point link above.
Accomodations for School and Evaluation:
Embassy Suites: Phoenix-Scottsdale, AZ, 4415 E Paradise Village Parkway S
602.765.5800
To receive the special AHA Exhibitors/Judges School rate of $149.00/single or double occupancy, which includes a daily complimentary breakfast, contact the hotel through the link provided. The Cut Off date to take advantage of this room rate is Sunday, October 30, 2022.