Enter the 2019 Horse Judging Contest!
Entry forms for are due September 23 of the given year.
$150 per team ($175 post-entry fee), $50 per individual ($75 post-entry fee)
AHA would like to invite 4-H, FFA, AHA and Collegiate Judging Teams to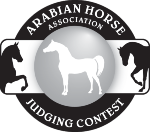 participate in the 49th annual Arabian Horse Judging Contest.
This prestigious contest is held every year in conjunction with the famous U.S. National Arabian and Half-Arabian Championship Horse Show, which allows contestants the opportunity to judge national-caliber halter and performance horses. Ours is the only national contest for the versatile Arabian breed, and one of the few contests to regularly feature classes such as English Pleasure, Native Costume, Show Hack, and Country English Pleasure.
Each year, winners divide over $10,000 in generously donated scholarships and prizes. The high individual overall of the entire contest receives a certificate to the Arabian Horse Judges School and the opportunity to judge a championship class in center ring at the U.S. National Show.
2019 Arabian Horse Judging Contest
October 24-26, 2019
Expo Square - Tulsa, Okla.
Tentative Schedule:
Coaches Meeting – Thursday, Oct. 24 at 6:00 p.m. in Central Park Hall
Contest – Friday, Oct. 25 at 8:00 a.m. in the Pavilion
Awards Breakfast – Saturday, Oct. 26 at 8:00 a.m., Hyatt Regency Tulsa (contest or semi-formal attire suggested)
Center Ring Awards Presentation of All Teams – Saturday, Oct. 26, time TBD in Ford Truck Arena
Judging Contest Hotel
100 E Second St
Tulsa, Okla. 74103
918.234.1234
For more information, contact Youth & Family Programs Coordinator, at (303) 696-4505 or youth@arabianhorses.org.